What if you could use the same tool you make a screen recording with to edit your video? With VEED's brand new webcam recorder you can! In this article, we'll be teaching you how to make shareable webcam videos and also edit them all with the same tool saving you time and the headache of using multiple tools.
By the end of this article you will:
Know how to use VEED to record and edit your webcam videos
Get gear suggestions to make the higher-quality webcam videos
5  content creation  ideas to use as inspiration to start editing your webcam videos

How to Use VEED to Record Your Webcam Video
STEP 1: Go to veed.io/webcam-recorder and choose from one of our layouts (Save this page as a bookmark for easy access)
STEP 2: Follow the prompts to grant access to your webcam and audio source of choice as well as which screen you'd like to record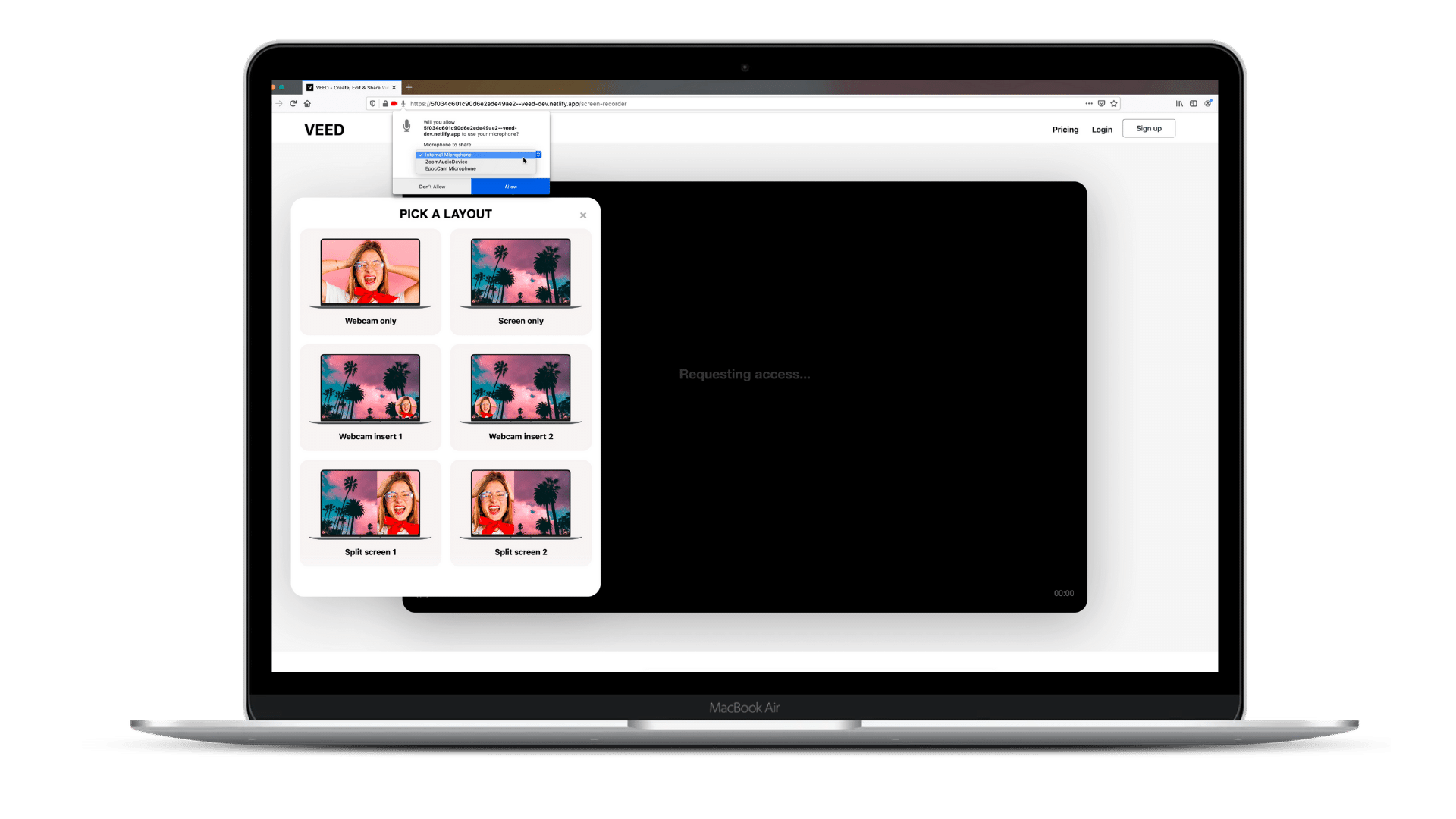 STEP 3: Click the record button and click it again when you're done.
STEP 4: Once the recording is complete, you can choose to either edit, download, or re-record your video. To edit video, move on to step 5 in the next section below.
Time to Import and Edit Your Webcam Recording!
You can opt to share or re record a video immediately upon completion of the webcam recording. But if you want to go the extra mile to edit, you can import it directly into VEED's online video editor. Here's the simple 3-step breakdown on how to do this.
STEP 5: Hit edit to load your recording in VEED's online video editor. It will look something like this depending on the dimensions of the screen you recorded. You can click the canvas resize button in the upper right-hand corner to resize your video if needed.
STEP 6: Click on subtitles to add subtitles to your video and make it easy for your viewer to understand what you're saying in your video in case they are hard of hearing, have sound off, or your video's language isn't in their native language. Choose from auto subtitles or manual subtitles for the webcam video.
STEP 7: Customize your video with the VEED tools. If you want to make a video like Gary Vaynerchuck it's easy to do with our tools allowing you to add text to video for your title, progress bar animations, add music, add filters, and more with the left-hand side tools panel.
Gear to Make High Quality Webcam Videos
If your computer doesn't already have a quality webcam that can record in high-resolution and lighting is difficult, here are options  to help you get started with recording better videos.

For Higher-Resolution Video
Get a new webcam like the Logitech StreamCam
Turn your phone into a webcam for free with Epoc Cam
For Crisper Audio
Level up your audio with a tabletop Blue Yeti microphone
Use a clip on lavalier microphone or headphones with a built-in mic
For Better Lighting
Improve lighting at anytime of the day with a tabletop ring light
Sit by a window with plenty of natural lighting

5 Ways to Use the Webcam Recorder
The creative possibilities are endless. But here are some ideas to help you get some content creation inspiration.
Make and Edit a TikTok Video
Tutorials are more popular than ever on TikTok. And now it's easier than ever to record your screen and edit without having to use a bunch of apps to edit a single TikTok video. Record your screen and speak to your audience as it records or add in your voiceover when you upload the webcam video to TikTok.
Create a Lesson for an Online Course
Choose from different views to get your point across in a lesson. You can take up the whole screen with yourself on camera, split the screen, share the full screen with a video bubble of yourself, or full screen share without you being on camera. Once you're done recording, you can easily make your course content accessible by adding subtitles to video, drawing on video, and even adding progress bars with VEED's online video editor.
Make IGTV Content with our Webcam Recorder
Making and editing videos for IGTV has never been easier. Use the webcam recorder to shoot the video and edit inside of VEED. You can also design your thumbnail inside VEED by leaving the first half second of your video timeline blank. Just drag the video on your timeline or adjust the pink handles to make space. Once that's done, simply change the background color under the project tab. From there you can add thumbnail text with the text tab and experiment with other tools to do things such as adding images or shapes to video.
Create Brief Videos for Social Selling
Text-based cold messaging is so 2018. Sharing videos to introduce yourself is the warmest, most human, way to approach outreach efforts such as cold messaging. Make sure to say the name of the person you are reaching out to in the first couple seconds. Once you've finished with your webcam video, you can import into VEED's editor and add subtitles. We highly recommend you add text to video with your intended viewers name at the start where you welcome the viewer so they realize this is not just another impersonal message.
Shoot and Edit Onboarding Videos
Whether you're onboarding a client or a new team member - video adds a personalized touch to make your brand feel more human. This is especially important as your team grows and it becomes increasingly difficult to have a dedicated 1-on-1 onboarding with everyone.Use VEED's webcam recorder to welcome and educate your viewer for your next onboarding video.

We're excited to share this brand-new feature with you and continue to update it with more functionalities to uplevel your video editing experience. Try VEED's webcam recorder  for free today to get started with your first video!