Are you looking to find out how to draw on video online? Looking for a handy editing tool to create quality explainer videos or highlight parts in your video tutorial?  If so, VEED is going to be the perfect video editing app for you. We've put together a quick guide to drawing and writing on quality content here, to help you make your content stand out from the crowd.
In this guide, you'll learn how to;
Draw and write on videos online
Choose the best moments to draw on videos
Use video content to make an impact on your audience
We hope you enjoy it!
One of the best things that you can do with our editing tool is draw directly on your videos. Here, we've collected 5 simple steps on how to draw on your videos online for free.
If you're looking to come back and re-edit your project, or even start a new one, do make sure to sign up for a free account.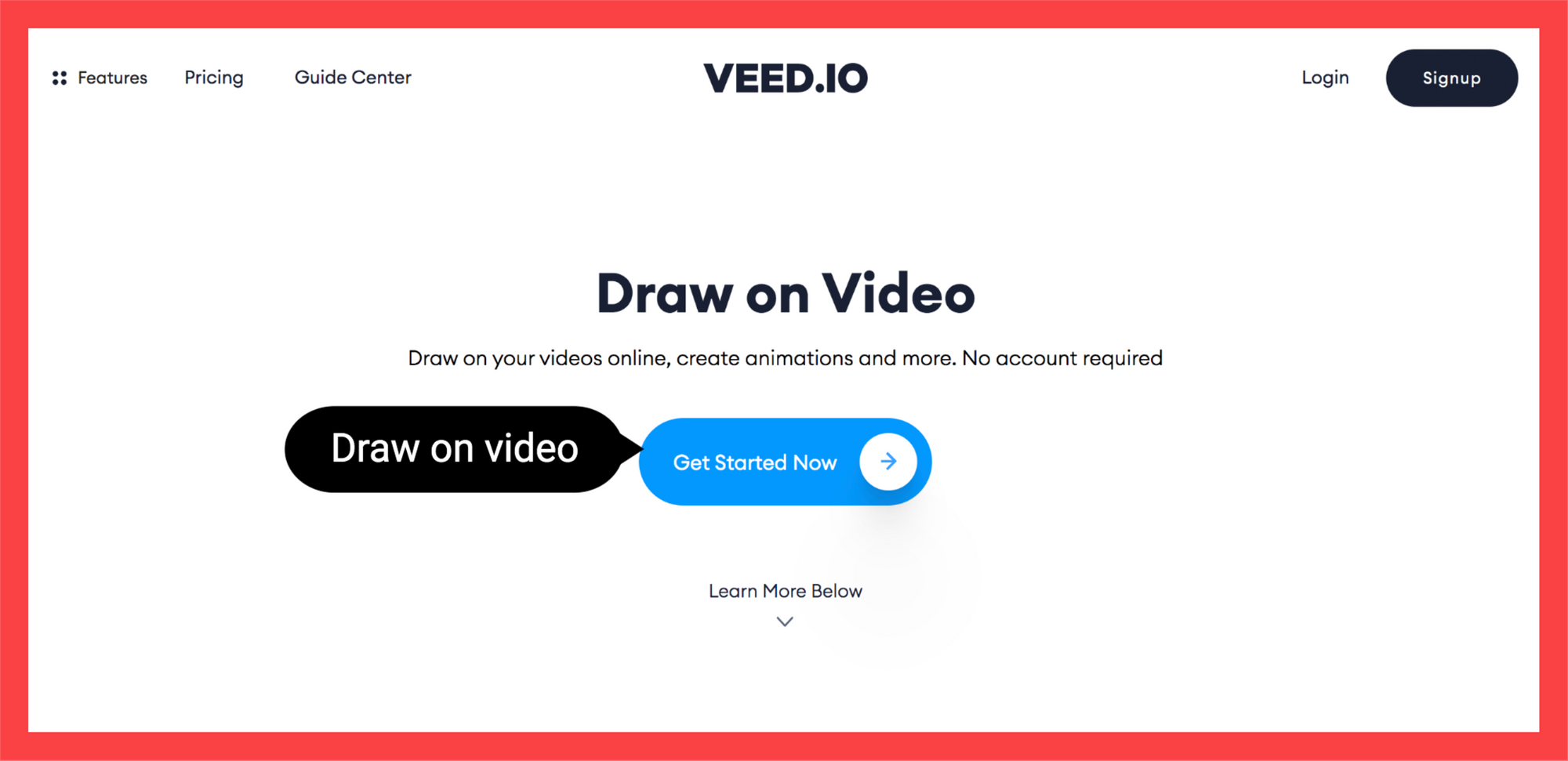 VEED accepts uploads from local files and your camera, YouTube video links and even Dropbox.
2) Go to Draw in the toolbar on the left side of your screen
In the left toolbar, select Draw.
3. Select your desired brush to draw on video with
When you tap on the draw button, you will see the option to pick from two unique brush strokes. Pick out the one that matches your style the best.
4. Choose your specifications and draw
Once you've picked out a brush stroke, make sure to choose the best specifications for your drawing.
Use the color selection tool to pick different colors to draw in, pick between a round or sliced stroke, and check out the opacity and size of the stroke.
After you've picked out the best specifications for your drawing, it's time to start experimenting. Set the durations for each individual drawing layer, and enjoy doodling on video to your heart's content. See your doodle manifest in the video editor.
5. Export and download your video file
Once you've finished your drawing, press the export button to download your quality video. The video will render, and then it will be available to download - either as an MP4 video format or as a GIF format. Activate link-sharing for otherx to download too.
If you're hoping for other people to download your work - perhaps as part of a project or an online course - you can share the download link, too. That's all there is to it! Drawing on video can be a lot of fun, and it can be incredibly effective for making content more interesting, too.
Other Things That You Can Do With VEED
If you're looking for a way to spice up your video content, adding visual elements to your video can make it pop out from the rest of your competitors.
Whether you want to create content for your company or share your latest vlog with your Instagram followers, aside from drawing on videos, these are surefire ways to add a personable touch.
1) Add in subtitles to engage with those who watch on mute
Additionally, it can help to improve your video's accessibility, for people who need subtitles to fully engage with content. VEED can help with creating subtitles and adding text to videos, too.
2) Add video clips, split and merge videos, and so on
You can also add other video clips and files in the video editor Timeline. The Timeline video editor also has editing tools too split and merge these video clips.
Something else great that you could experiment with is characters. Does your company have a mascot? Add them to your content as an image logo!
4) Add a watermark text to video and claim original ownership of your content
A lot of shareable content today on social media ends up being endlessly repurposed, shared and unattributed.
Prevent this from happening to your content by adding a watermark text or logo in your content in such a way that it can't be cropped out without disrupting the viewing experience. This will let people find out how or where to follow more of your awesome content!
Make sure to change the color accordingly to make the text visible.
5) Add music
You can even layer an external music or audio track to your content. Here are some websites to find music or audio tracks for your video. You can also add sound effects.
The web is overflowing with free music options, sound effects and audio tracks. Once you've found your own, just go to Upload in the left toolbar to upload your audio.
6) Add motion drawing to your content
It's also worth experimenting with drawing flair and small accents on your videos. If your video shows birds flying in the sky, for example, draw motion lines behind them as if they're in a cartoon. Add small motion lines, sparkles or even exclamation points to captivate your audience while watching.
Video content is truly taking over right now, and it's great to have a handy editing tool like VEED to help you stand out and speed up the editing process.
Using Your Videos To Make An Impact With Your Audience
From Instagram Stories to Facebook Live, video content is hugely popular right now.
Drawing on video aside, if you've never created video content before then now would be a fantastic time to do it. It's a great way to develop a brand and to connect with your users and viewers on social media, too.
If you're unsure where to start, we'd suggest heading over to YouTube and Instagram to see what inspires you and what quality content viewers like and are sharing.
How are your peers using videos to connect with their users? What elements of popular videos do you appreciate? What are users sharing. Figure out what you enjoy, then pair this with what your users will appreciate.
From there, it's simply a case of experimentation. Find a great video editing tool to work with, try out a few different types of video content and make sure to record your users' feedback so you know what they enjoy the most.
Video content is a fantastic investment to make in the long run.
Improve Your Videos With VEED's Video Editing Tools
Here at VEED, the most important thing to our team is helping our audience make the best videos possible. Our simple and user-friendly video editing tools makes tasks like drawing on video and editing videos a breeze, and we're sure that you're going to love it.
But of course as a video editing app, VEED has many other powerful, yet simple, features for you to use. You can add text to your video, merge, trim and split your videos, add an audiogram, and so on.
If you're on the hunt for more helpful blog posts, guides and tutorials, we've got just the ticket. Make sure to head over to our YouTube channel and Instagram page to see other helpful content.