Using captions and subtitles can lead to better engagement with your video content by allowing people to follow your content with the sound off. Many people use VEED's automatic and accurate auto-subtitling tool exactly for these reasons.
But what exactly are the differences between captions vs subtitles? It's a topic that still confuses many people, and that's exactly what we're going to be taking a look at today.

In this guide, we'll be going over:

The difference between captions vs subtitles
Why both captions and subtitles are important
How VEED's video editor can help with subtitles
How to translate subtitles with VEED's video editor

Let's get into it.
What's The Difference Between Captions And Subtitles?
Captions are transcripts of all the auditory moments happening in a video. This includes dialogue, descriptions of noise, non-verbal sounds, background sounds in the original audio, and so on.

Captions can be found in two key forms: open or closed.

You can activate and deactivate closed captions while watching a video, whereas open captions (aka burned in captions) are directly placed on the top of a video and cannot be turned off.

Captions were created to help those who are hard of hearing when watching videos. They were brought into practice thanks to the Americans with Disabilities Act to improve accessibility nationwide. This is why they're also referred to as: "Subtitles for the Deaf and Hard of Hearing (SDH)".
In general, closed captions are the better choice for videos. Closed captions can be turned on and off, and does not get affected by the video quality. You can also swap between closed captions in foreign languages. Open captions are directly placed on the video, can't be turned off, and can get quite hard to read if the video quality is bad. If the video player allows closed captions, definitely go for them.

On the other hand, subtitles only transcribe spoken words in a video, so they are direct transcripts of the dialogue in a video. They can be great for understanding people with heavy accents, or for watching foreign films. They normally only include the spoken language and do not account for background noise and music.
Sometimes, people also call closed captioning as closed subtitles in places outside the United States.
Why Are Subtitles and Open/Closed Captions Important?

Now that we've covered exactly what the differences are in the captions vs subtitles debate, let's take a look at why videos with captions work well for a great viewing experience, regardless of your target audience. It can also help your content reach a wider audience. If you want to upload your video to a video streaming platform that allows closed captions, definitely upload these caption files!
1) Accessibility
Subtitles make your video accessible. Your deaf and hard of hearing viewers frequently come across videos with no captions available, and even no subtitles, too. This isn't fair. Video content should be accessible for everyone, and creators should be aiming to meet these demands.

Whether you're adding subtitles or closed captions, improving accessibility is arguably the most important benefit that will come with this move. Closed captioning allows those hard of hearing to have a better viewing experience.
2) Educational for language learners
This tip particularly applies to subtitles, but it can apply to captions too. Adding these to your video can help to support people who are looking to learn a new language or who simply prefer to watch video content in foreign languages. Closed captioning allows language learners to switch between languages, too.
3) Search Engine Optimization
A little-known perk that comes with closed captioning is the boost to SEO that can come with them. Effectively written captions can help search engines to index content for strong keywords, and this can be used to a creator's advantage. You can use this for many platforms, such as YouTube, LinkedIn, Facebook and Google. Plus, if your closed captioning is in many different languages, your content can rank in them, too!
4) Better viewer engagement
No matter where you stand on the captions vs subtitles debate, there's no denying that they help with viewer engagement. Not only do subtitles and captions draw in people who are watching with the sound muted, they can also help with information retention and general engagement from viewers. Closed captioning essentially leads to better engagement.
5) Reach viewers from different countries
Finally, subtitles in particular can be great for making content more accessible in terms of language, too. Adding subtitle options into your content means that people from different countries can enjoy your work, too. Closed captioning also works well if you want diferent language options, as your viewers can choose through different subtitle files.

All in all, if you haven't considered adding subtitles or captions to your video content before, now would be the perfect time to start.

How To Add Subtitles With VEED In A Few Clicks

Want to create accurate, automatic captions?
VEED has a simple, yet powerful, auto-subtitling tool that gives you automatically create accurate and automatic captions and translated subtitles. Here are easy steps on how to do this.
1) Upload your video to add subtitles
To start the process, hit the Upload video button.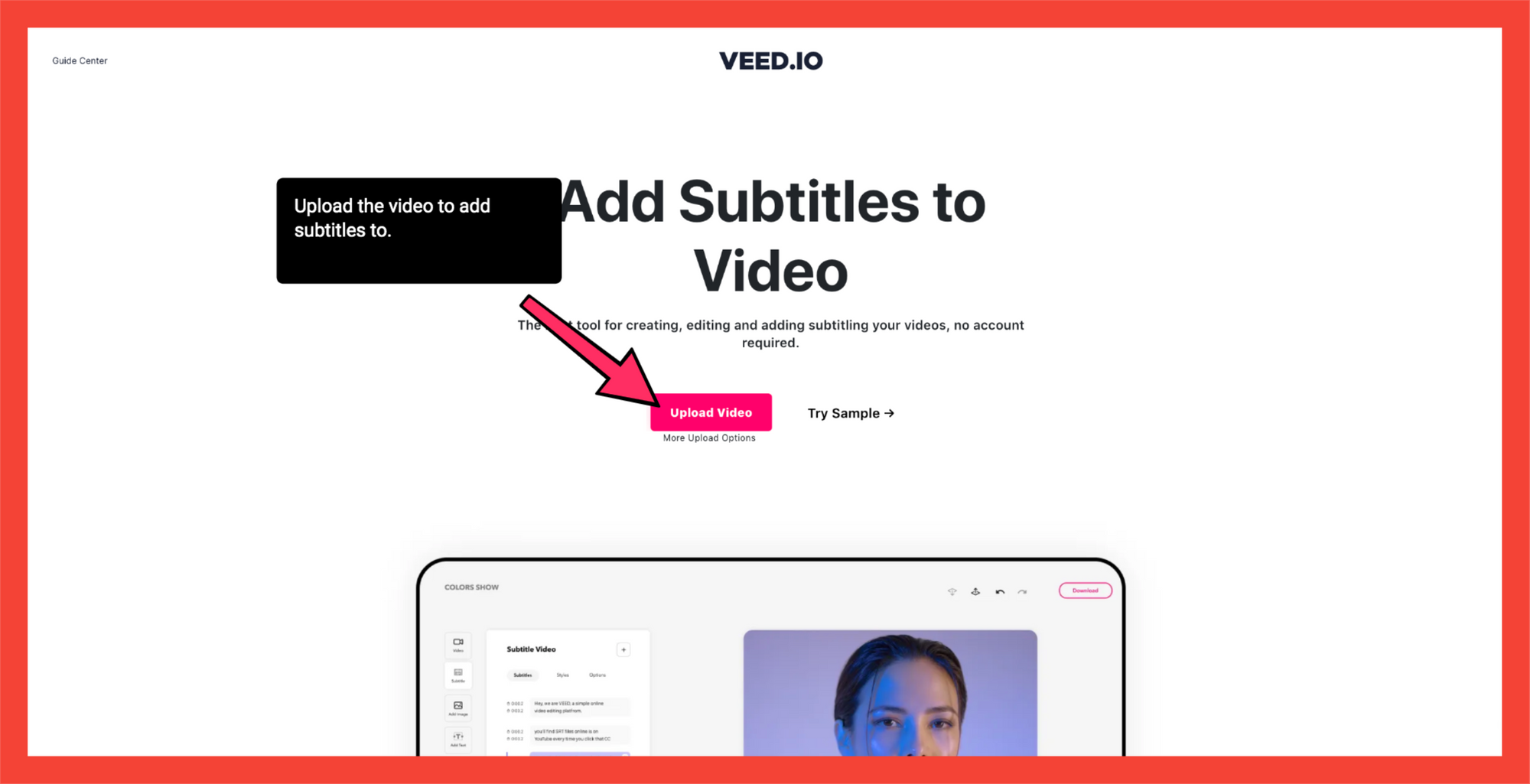 VEED accepts content uploads from local files and your camera, YouTube video links and Dropbox, as well.

Note: If you want to save projects, quickly create a free account. You only need your email.
2) Add in subtitles

To add in your subtitles or automatic captions, head to the subtitle button in the left hand toolbar, and choose from the three options available. You can pick from:

Automatic subtitles
Manual subtitles
Subtitles uploaded from an external file

Remember to choose the language and region. If you want English subtitles, specify the accent's country for an accurate transcription. For example, if the speaker is English, choose English (United Kingdom).
3) Verify and check accuracy

You can edit and check the accuracy of your subtitles or closed caption track once you've finished uploading them in the editor.

Under Styles, you can change everything from the wording, to the font choice. The subtitles will change its position in your video relative to the aspect ratio.
4) Download
You can head to Options under Subtitles to download the subtitles in different subtitle file formats. These subtitle file formats are VTT, SRT or TXT.
Once you've finished this, you're all done! Hit the export button in the top right corner when you're ready to download your creation.


How To Translate Subtitles
It's not just subtitles that VEED can help with, of course. With our subtitle translator, quickly create subtitles in different languages. You can also download these different subtitle tracks in one go. To help out, here's a quick tutorial on how to do this.

As with the previous tutorial, hit the upload video button to get started with VEED's subtitle translator.

If you've already signed up to VEED, you can work from an existing project, too.
2) Add in subtitles
To start off with, you're going to need to add in subtitles. Pick out whether you want automatic, manual or external subtitles in the subtitles tab in the left hand toolbar.

3) Hit the translate option

Here, you'll be able to pick out which language you want to translate your work into to start the subtitle translator.
Go to Translate in the Subtitles editor.
Choose the language to translate to
Choose the language to translate from
Create translations.

Do make sure to double check the accuracy of your subtitles after every step, of course! It's always good to be certain when it comes to translation.

Under Translate, you can also go through different closed caption tracks.
4) Download your work
Again under options you can download the subtitles in different subtitle file formats.

After you've completed these steps, you've finished! Hit the export button to begin the rendering process, and download your masterpiece. There you have it. You've just used VEED's subtitle translator in creating closed subtitles.
Create Awesome Captions and Subtitles with VEED

Overall, if you haven't spent much time considering the accessibility of your video content, now would be the perfect time to start working on it. Accessibility should be something that is at the forefront of every creator's mind, and it's something that we regard very highly here at VEED.
But of course, VEED is a simple, yet powerful, video editor that's more than a caption editor or subtitle translator. You can add text to video, add music to video, change video aspect ratio, trim, crop, and split your videos and so on.
If you're looking to read more guides and tutorials like this one, do make sure to check out the rest of our content. We've got plenty of content on our website, covering everything from accessibility tips to our latest tools and features.